Experimental Night #15
Die Experimental Night geht in die fünfzehnte Runde und präsentiert euch wie immer aktuelle, internationale Künstler aus dem Bereich der experimentellen Musik. Von leise bis krachig ist alles dabei, jedesmal anders, jedesmal neu. Für alle Neugierigen, die sich klanglich bereichern lassen wollen.
L I N E UP :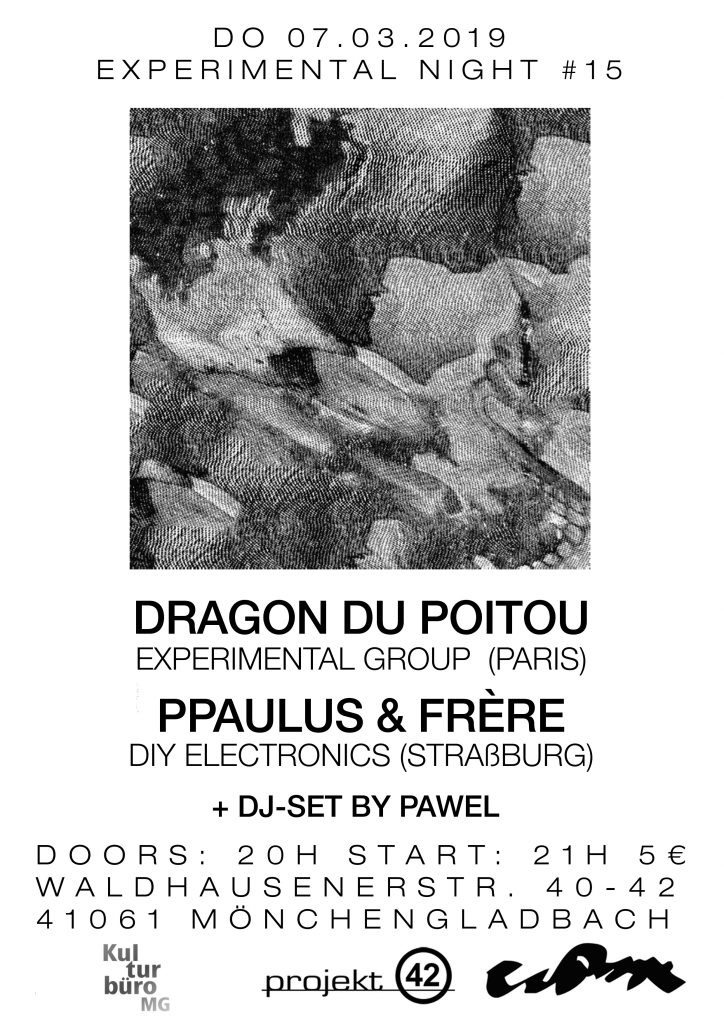 ►► DRAGON DU POITOU (Raide) – FR ❂
Somewhere between Gourbeyre and Paris Orly Airport, the six members of Dragon du Poitou spread a thick and powerful sound, dubbed live, and always within an opened
and immersive stage device. Playing both with temporalities and intensities, but always with a certain emergency, Dragon du Poitou takes French West Indian musics over and
shape them as a Glenn Branca piece, with a healthy dose of humour.
https://raide.bandcamp.com/album/gourbeyre-t-bi-t-quimboiseurs-on-lewoz-pou-mala
https://vimeo.com/206286624
►► PPAULUS & FRÈRE (Travail Rythmique) – FR ❅
Audio signals, voltage peaks and cables as a bridge between PPaulus's weird techno
and Frère's experimental noise. Hailing from the techno/radio/improv label Travail Rythmique, PPaulus & Frère meet for an improvised electronic live set around DIY machines, infernal acoustic devices and obscure filtered records.
Also in the projects « Union Électrique », « PPaulus » and « Frère ».
https://soundcloud.com/travail-rythmique/sets/ppaulus-frere-frere-ppaulus-ep
Experimental Night #15
DRAGON DU POITOU (Experimental / FR)
PPAULUS & FRÈRE (DIY Electronics / FR)
+ DJ-Set by Pawel
Doors: 20h
Start: 21h
Waldhausenerstr. 40-42
41061 Mönchengladbach
Präsentiert von ECONORE
Mit freundlicher Unterstützung vom Kulturbüro MG.